Knowing whether your Office 2021 is 32-bit or 64-bit is important for ensuring that you have the right version to use with other programs, and for getting the most out of your computer's CPU. This is important because some add-ins or features may not work properly if you have a different bit version than your operating system or other applications.
So, how do you check your Office version? It's actually very easy and only takes a few steps. Here's what you need to do:
1. Open any Office application, such as PowerPoint. Click on the File tab in the upper-left corner of the screen and select Account from the left sidebar.

2. Under Product Information, click About PowerPoint.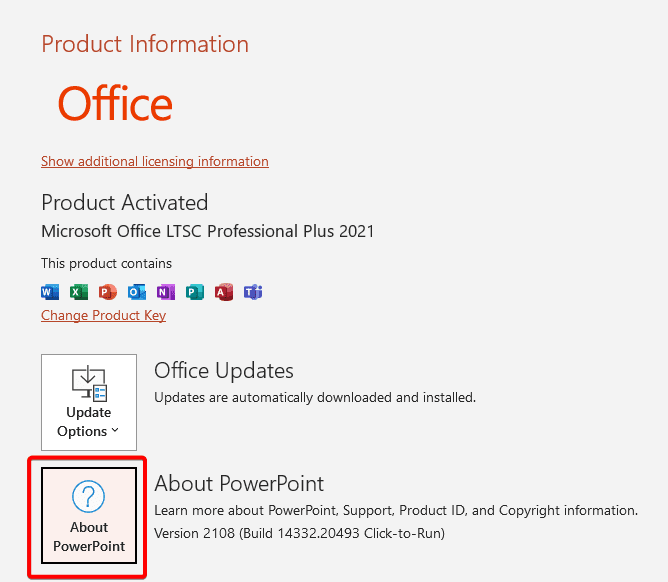 3. Look for the version number and the bit version (32-bit or 64-bit).

FAQ
Can I upgrade 32-bit Office to 64-bit?
Yes, you can upgrade from a 32-bit version of Microsoft Office to a 64-bit version. If you have Microsoft 365 Apps installed on your device, you can use the Office Deployment Tool and its configuration.xml file which supports an optional attribute named MigrateArch. If the MigrateArch attribute is set to True, then your installation of Microsoft 365 Apps will be changed to the architecture specified in the OfficeClientEdition attribute.
 
If you have a retail version of Office, you will need to uninstall the existing 32-bit version and then install the 64-bit version.
What is the difference between 32-bit and 64-bit?
The distinction between 32-bit and 64-bit in terms of software pertains to the kind of CPU, operating system, driver, software package, etc. that makes use of that specific architecture. Data is used in 32-bit chunks on 32-bit systems, while 64-bit systems use data in 64-bit chunks. In general, a system may work more quickly the more data it can process simultaneously.
Only 32-bit operating systems and programs can be used on computers with 32-bit processors. Both 64-bit and 32-bit operating systems and programs can be used on a machine with a 64-bit processor. However, a 64-bit computer can only run 32-bit applications if a 32-bit operating system is installed on it.