One of the perks using Google Slides is the ability to collaborate! Since it's online and accessible from any device, your teammates can also do it real time!
No wonder Google Slides is starting to steal the spotlight after Powerpoint. But did you know you can also take your collaboration further?
Google Slides offers an in-app 'Chat' feature within the service. It helps you chat on Google Slides and communicate with your teammates without opening another application that can bring distraction!
Below we will explain how to use the chat feature on the web version.
Chat on Google Slides web
The web version of Google Slides offers the most complete features you can utilize. The chat feature is also obvious and you can use it steps away.
1. Open Google Slides
2. If your friends are online, they will be shown on this corner

3. Click 'Bubble with person' icon as shown below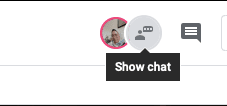 4. Try to chat with your teammates! All members will be notified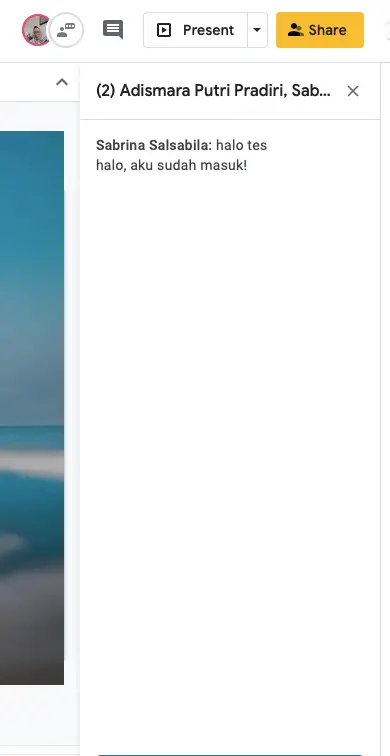 5. You can also check if there's a new chat. The tiny dot will be shown as the indicator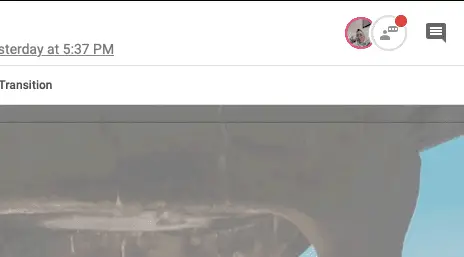 Chat on Google Slides mobile
Sadly, the chat feature is not yet available on the iOS and Android version! Hopefully we can catch the chat feature on the upcoming updates!
That's it! Very easy step to chat and collaborate with your teammates! Chat feature is very useful if you're on the agile team which needs consistent update of the pitchdeck or presentation. Good luck!