The terms "Presentation Remote," "Wireless Clicker," "Slide Clicker," "PowerPoint Remote," and "Presentation Pointer" are among those that you could hear used by other people. It all refers to the presentation clicker, which is the same item.
A presentation clicker is a wireless device that acts as a remote to control the movement of your slides during a presentation. It helps you avoid distractions and interruptions by allowing you to move around freely and focus on your audience.
Here are some steps on how to use a presentation clicker.
1. Choose a compatible clicker for your computer and presentation software. Some clickers work with Bluetooth, while others use a USB receiver that plugs into your computer. Make sure your clicker supports the software you are using, such as PowerPoint, Google Slides, or Keynote.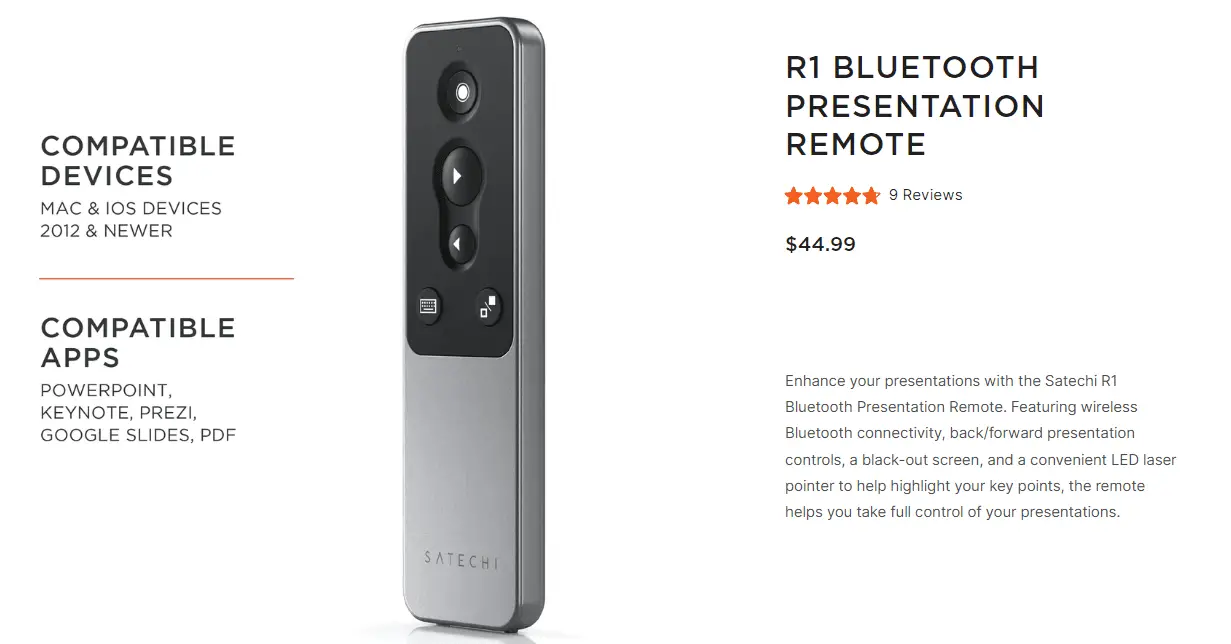 2. Connect the clicker to your computer. If your clicker uses Bluetooth, turn on the Bluetooth function on your computer and pair it with the clicker. If your clicker uses a USB receiver, insert it into an available USB port on your computer.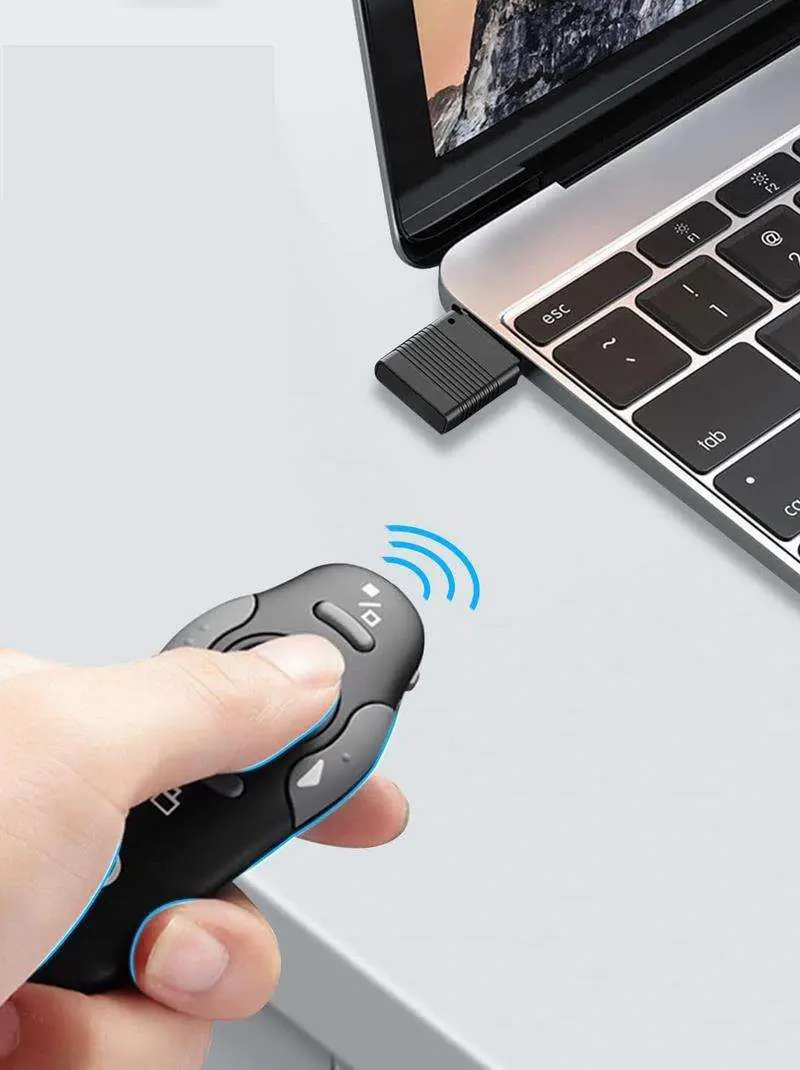 3. Open your presentation and start the slide show mode. Depending on your software, you may need to press F5 (for PowerPoint), Ctrl+Enter (for Google Slides), or Play (for Keynote) to enter the full-screen mode.

4. Use the buttons on the clicker to control your slides. Most clickers have buttons for moving forward or backward in the presentation, as well as other functions such as laser pointer, blank screen, volume control, or zoom. Press the buttons gently and briefly to avoid skipping slides or activating unwanted features.
Practice using the clicker before your presentation. Familiarize yourself with the layout and functions of the buttons, and test them with different distances and angles from your computer. Make sure the battery is fully charged and has a backup plan in case of technical issues.
How to choose a good presentation clicker
Presentation clickers come in different shapes, sizes, and features. Some of the factors to consider when choosing a presentation clicker are:
Power: Look for a clicker with long battery life or a low-battery indicator. The average battery life of presentation clickers may vary depending on the model, usage, and battery type. Some presentation clickers can last up to 20 hours in laser pointer mode or 1,050 hours in presentation mode with two AAA batteries. Some presentation clickers can go into a power-saving mode when the battery is low and extend the battery life for an extra week.
Range: The range of a presentation clicker determines how far you can move away from your computer without losing control of your slides. Most presentation clickers have a range of around 50 feet (15,2 meters) for normal mode and 80 feet (24,3 meters) for mouse mode. Some clickers may have a longer range of up to 100 feet (30,4 meters) or more, especially if they have a powerful laser pointer.
Compatibility: Some clickers are compatible with Windows, Mac, Linux, Android, or iOS, while others may only work with specific versions of these systems. For the presentation software, some clickers are compatible with PowerPoint, Keynote, Prezi, or other popular presentation programs, while others may have limited functionality or features with certain programs.
Design: Comfortable to hold, easy to use, and has a clear button. You should look for a clicker that has a good grip, a clear layout of buttons, and a suitable size and weight for your hand.
Function: You want a clicker that has a laser pointer, a mouse mode, a battery indicator, a timer, or other useful features that can enhance your presentation.
Presentation clickers are sold at varying prices both online and in-store. Before making a purchase, you can compare various models and read consumer reviews.